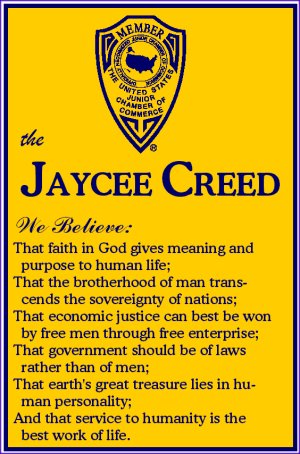 Check out our Calendar for the date and location of our next Chapter Meeting. Come see what the Jaycees are all about — there will be food, beverages, and FUN!
Open to ages 18-40 • Membership dues are $60 per year
Join online at https://app.glueup.com/organization/2131/
General email: shebjcs@gmail.com
Membership inquires: membership@sheboyganjaycees.com or send a message to our Facebook page
"Service to humanity is the BEST WORK OF LIFE!"
---
Member Benefits
The Sheboygan Jaycees have attracted hundreds of members since its origin in our community nearly 100 years ago. Now, the organization is as strong as ever. For only $60 a year ($5 a month) you too can become a member of one of the largest civic organizations in the world. So, what do the Jaycees give back from your membership dues…
Free food and beverages at Chapter Meetings
Free event t-shirts
Looks great on your resume
Opportunity to network with others
Create friends not only in the Sheboygan area but also at the state, national, and international levels
Travel statewide, nationwide, and worldwide
Learning and utilizing skills such as leadership, management, and communication
Learn how to manage projects, make a budget, lead a committee, make an agenda, create Project Management Guide (PMG)
Service to the community
Personal growth and development
United States Jaycees member benefits flyer
These opportunities and more can be yours. If you're interested in seeing what we do, please come to one of our chapter meetings (the first Thursday of every month — check our Calendar for location), view our Facebook page, or email our membership team.
SHEBOYGAN COUNTY CHAMBER OF COMMERCE – The Sheboygan County Chamber is a Member-based Organization serving the business community within the county. As borrowed from the Chamber website, "The Chamber is often seen as the "key organization" that is influential in moving the business community together. It unites their voice, helps them network and grow their business and provides supportive programs and initiatives that assist businesses and reminds them they are part of the broader business community. The Sheboygan County Chamber of Commerce is just such a progressive entity working for the good and enhancement of its member companies. The Chamber is the adhesive that binds the business community and in doing so brings great value and value-added benefits to its members."
► As Sheboygan Jaycees and with our membership in the Chamber, all Jaycees have the opportunity to attend Business After Hours — an excellent monthly networking gathering of the members of the Chamber. Each month, a different Chamber member site acts as the host. Bring your personal business cards along and be ready to make connections. View the calendar of events and other benefits at www.sheboygan.org